With all the new towers going up downtown, building nerds like myself have enjoyed a rather unique opportunity to closely observe current construction practices and building materials in action.
One of the things that has impressed me is how light the structures can be, especially structured parking. It's fairly hard to find one that doesn't have the floor ends screened, or otherwise difficult to photograph, but the Spring condos provides one example: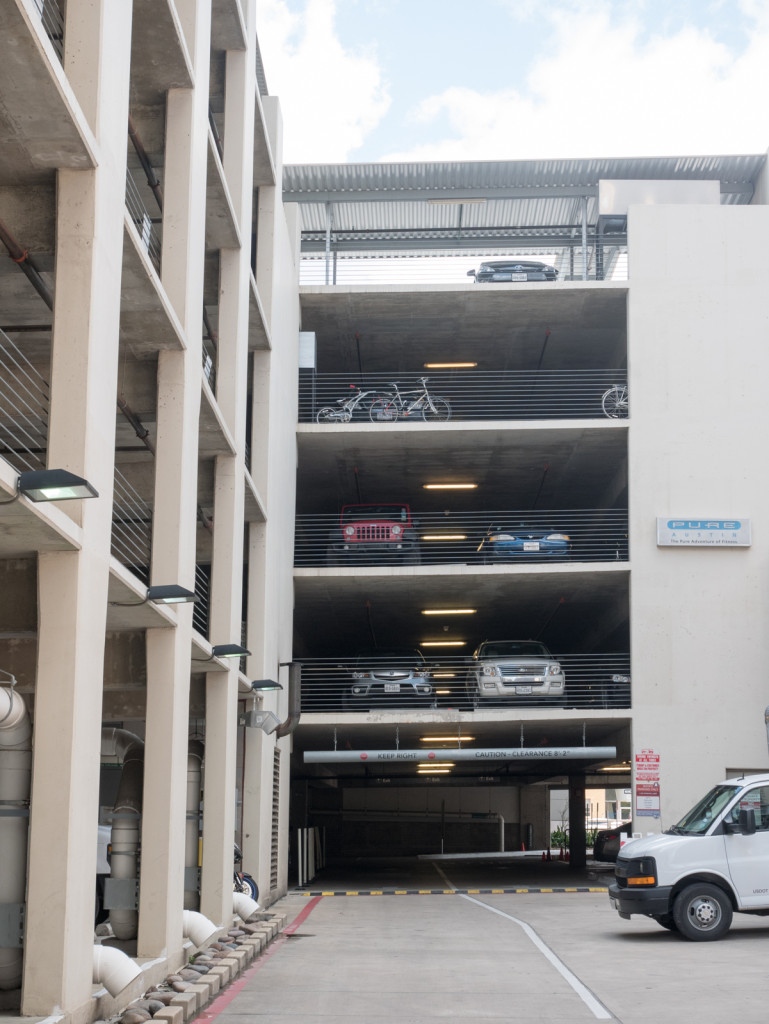 Since I've kinda gotten used to see multi-ton vehicles sitting on 6″ concrete decks with wide spans between the beams and columns, I've also become quite accustomed to seeing similarly sized structural elements in office buildings and residential towers 30+ floors up. As such, I was quite surprised when, while walking the dog on the lake trail, I noticed a huge hulking frame holding up a low-rise building under construction on Cesar Chavez. Of course it made perfect sense as soon as I realized where I was any my brain clicked into gear: That's the new Central Library!
And what a structure it is. Look how thick the beams are and how tightly they're spaced. And most impressive to this non-engineer is that despite those huge floor loads, the columns are still quite slim. The compressive strength of concrete is quite something to behold.
The real fun though is to compare it to the Seaholm condos in the background. The floors of the residences might as well be made out of wrapping paper by comparison. The lower level parking decks are a bit heavier. They might qualify as construction paper, but certainly don't rise to the level of corrugated cardboard.
I know it's fashionable for my fellow travelers to drop clichés about cars being two-ton death machines, but it would appear they're much easier to build housing for than two-pound enlightment engines.